With the unofficial start of summer not too far away, many families are planning summer activities such as trips to the beach or pool, picnics, festivals, and more.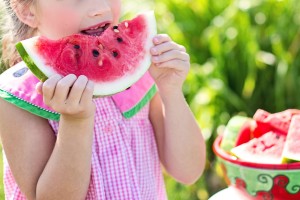 While summer time is the perfect time to get outside and get active, don't forget to take precautions to keep yourself protected. One of the easiest ways to stay safe in the sun is to wear sunscreen. Sunscreen is one of the most effective ways to prevent sunburns, reduce your risk of getting skin cancer, and prevent signs of premature aging.
Everyone should use sunscreen. Skin cancer, also known as Melanoma, is the most common type of cancer in the U.S. But the good news is awareness and education surrounding sun protection is growing. Public agencies and private organizations are working together to get the word out about staying safe in the sun. May is Skin Cancer Awareness Month, so we thought it would be a good time to share important tips on how to apply aerosol sunscreen:
Purchase the Right Sunscreen
The first step to using sunscreen is to purchase the right type. The American Academy of Dermatology recommends everyone use sunscreen that has:
Broad-spectrum protection (protects against UVA and UVB rays)
Sun Protection Factor (SPF) 30 or higher
Water resistance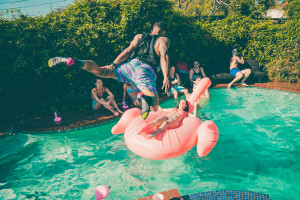 Use Sunscreen Everyday
Any day you're outdoors, put on sunscreen. Even on cloudy days, up to 80% of the sun's harmful UV rays can penetrate your skin.
When you're in a place with elements such as sand, water, or even snow (don't forget sunscreen when you ski!) you'll require even more sunscreen since the sun's light is reflected.
Apply Sunscreen Sprays Safely
While sunscreen aerosol sprays provide on-the-go convenience, it is important to treat sunscreen sprays like you would any other aerosol. This means never inhaling products or applying them near a heat source or while smoking. Also, be aware of which direction the wind is blowing so the mist does not spray back towards you.
To stay safe, parents should always apply sunscreen for their children. Avoid spraying directly around sensitive areas around the face or mouth. Instead, spray the desired amount of sunscreen into your hands, and then apply to your face.
Reapply Sunscreen Often
While you're outside playing a round of volleyball or relaxing at the beach, it may be easy to forget you need more sunscreen, but applying sunscreen every two hours while you're outside is essential. An easy way to remember is set a reminder on your phone.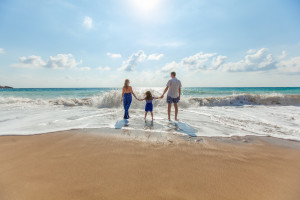 Don't Forget to Cover All of Your Bases
Sunscreen is an easy way to help stay safe in the sun, but there are other easy steps you and your family can take to protect your skin:
Stay in the shade as much possible: The sun's rays are strongest between 10 am and 2 pm so try to schedule events before or after these times.
Wear loose, protective clothing: This will help to not only prevent sunburn, but help you stay cool in the summer heat. Sunglasses, hats, and long sleeves should be in your summer wardrobe.
Avoid tanning beds: The World Health Organization has determined that UV rays from tanning beds can cause cancer. For an easy and safe tan look, buy self-tanning products.
To learn more about Skin Cancer Awareness Month and how to protect your family, visit healthfinder.gov.