October is quickly approaching, which means the season of pumpkin decorating is in full swing. Everyone loves a little jack-o-lantern carving at this time of year. Why not add a little extra fun to your pumpkin carving experience? Adventure further into your creativity this season with these fun, artsy and extremely creative spray paint pumpkin DIYs.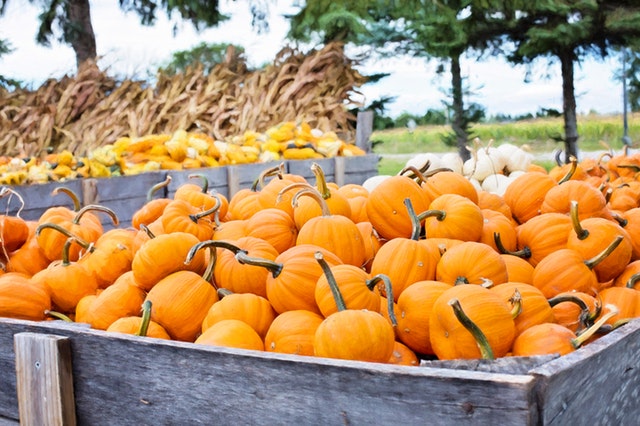 No Carve Lacey Pumpkin – Martha Stewart
Don't like to spend too much time on your fall decorating? Say no more. This no carve lacy pumpkin DIY creates an instant and intricate design with nothing more than a pair of stockings and a can of spray paint. Hint: the best lacy pumpkins are made using the most intricate stocking designs, so find a pair of stockings with an intriguingly complex pattern and then follow this project on marthastewart.com for an easy three step example on how to make your lacy pumpkin masterpiece.
Doughnut Pumpkin – Studio DIY
These doughnut pumpkins by Studio DIY is sure to make everyone stop and stare. This may be the cleverest pumpkin idea yet! And it looks delicious. You can create this using either spray paints or acrylic paints, and remember to be creative with your sprinkle design! Watch out! Someone may try to take a bite!
Marbleized Pumpkin – Sisters, What!
You can marbleize absolutely anything with spray paint, but since the fall season is here, pumpkins it is! The step-by-step marbleized pumpkin and gourd tutorial is up on the blog at Sisters What! All you need is spray paint, a small bucket, a paint stick and a pumpkin. And of course your creative juices! Use any color spray paint you desire and marbleize pumpkins of any size, type or color. Don't forget to Instagram it when you're finished!
Floral Moon Pumpkin – Blog Lovin'
This Fresh Floral Moon Pumpkin is a perfect mix of sweet and spooky, and if you are a super-fan of Halloween and pretty things, this is the design for you. This faux pumpkin is spray painted black to resemble the night sky with bright white flowers arranged in the shape of a crescent moon. Use this gorgeous pumpkin décor piece to make a sweet and spooky statement anywhere in your home. Follow the simple how to guide on bloglovin.com to learn how to make it!
Cherry Pumpkins – Design Sponge
For all of you who are not the biggest fans of the creepy Halloween décor, Design Sponge has you covered with a cherry pumpkin DIY by Brittany Jepson. These cherry red spray painted pumpkins are so freaking cute and they are a perfect mantel décor piece. This DIY project makes for an exciting trip to the pumpkin patch to scavenger around for two matching round cherry shaped pumpkins.
Galaxy Pumpkins – The Swell Designer
This totally cool galaxy pumpkin design by The Swell Designer is out of this world! This abstract design is super cool if you're looking to do something wild and artsy this year for Halloween. This galaxy art pumpkin is made using black spray paint and sponge painting techniques to create a galaxy nebula look. Use a variety of metallic paint colors to really make your design pop.